A MAZE. Awards 2023 - Nominees and Honorable Mentions
14/03/2023
---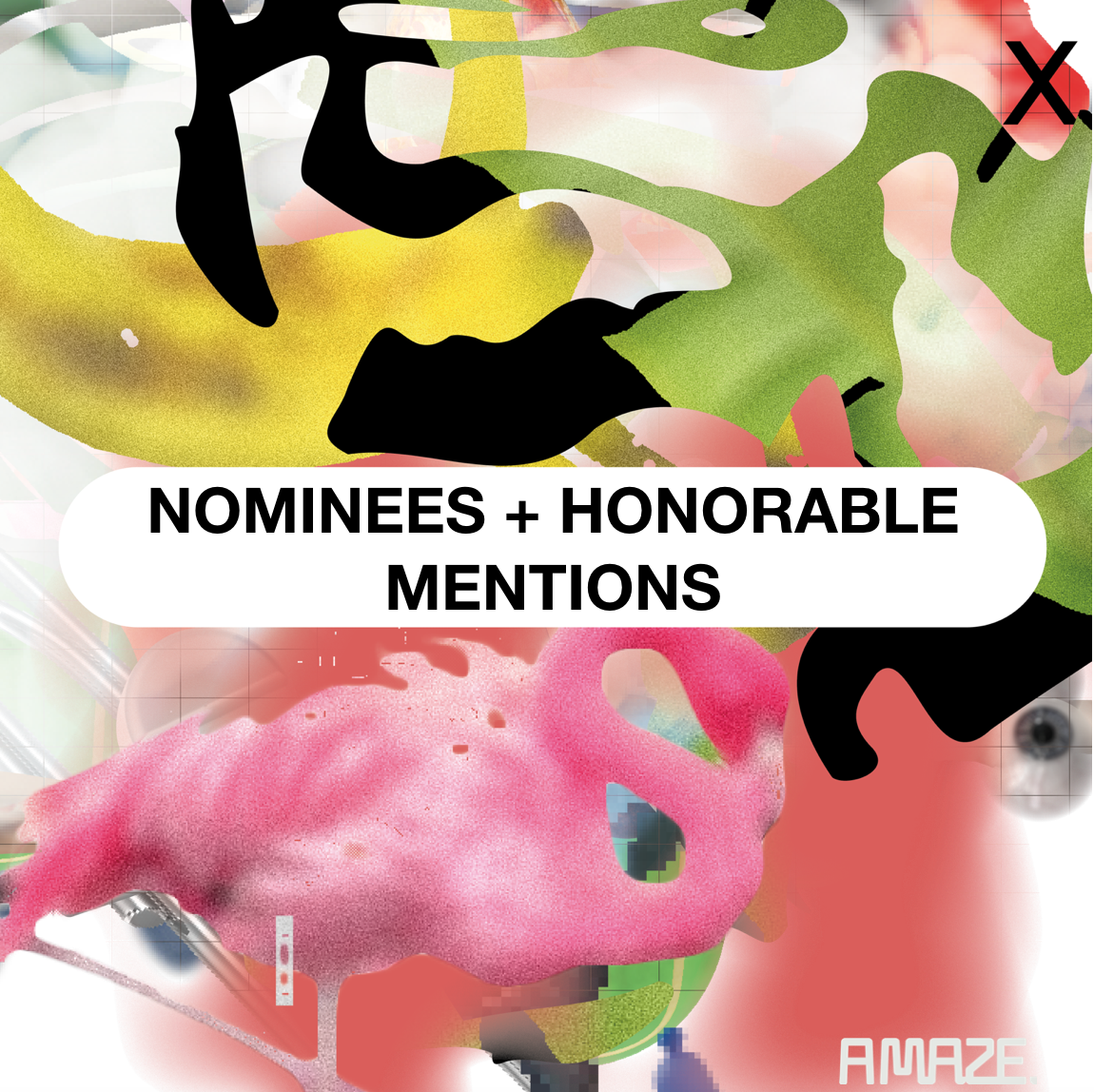 And here are the nominees & honorable mentions.
For this year's A MAZE. Awards, artists from 56 countries submitted 287 works: a new high in the 12 year history of A MAZE.. It was pretty tough to select the 30 nominees and 13 honorable mentions with a total of 28 nations represented. The 50 members of the selection committee have extensively tested all submissions. Now, the international jury will assign the nominees to categories and select the winners.
"The 12th international A MAZE. Awards are the centerpiece of A MAZE. / Berlin 2023. The selected works provide a status of a new wave of independent games, highlighting auteurism and artistic expression in the spirit of arthouse games and beyond the mainstream. I'm very proud of the allover quality of the entries, which made the selection of the nominees and honorable mentions this year very strong. Our remarkable hand-picked grand jury is formed out of artists, curators and thinkers from different cultural disciplines including two A MAZE. Award winners from 2022. Their decision on the winners will set new milestones on the rise of arthouse games and playful media at the A MAZE. Awards Ceremony in Berlin on Friday, May 12, 2023." Thorsten S. Wiedemann, Artistic Director
"We noticed a fantastic variety in this year's submissions: Many works tackled the rise of AI tools in very creative ways, provided a space to connect again on a human level and found expressions about current crises like climate change, wars or social shifts. I was also very happy to see some artists returning with feedback they gathered from previous submissions - now taking home a nomination (and maybe a win?)." Matthias Löwe, Award Coordinator
You can see all the nominated works here:
https://amaze-berlin.de/nominees
Nominees
DISCORDANCE by Unwired Dance Theatre (USA)
ESCAPE FROM LAVENDER ISLAND by Jeremy Couillard (USA)
EXTREME EVOLUTION: DRIVE TO DIVINITY by Sam Atlas (USA)
FLAWLESS ABBEY by Bed Head Games / CRITICAL REFLEX (Armenia)
HUMAN:LEVEL by Fabian Kühfuß (Germany)
IT'S JUST A DREAM (DON'T WORRY) by Laurenz Riklin & Leander Leutzendorff (Austria)
KING OF THE CASTLE by Tributary Games (United Kingdom, New Zealand, France, USA)
LOST ON MARS by Trey Ramm (USA)
MEXICO 1921: A DEEP SLUMBER by Macula Interactive (Mexico)
MIND DIVER by Indoor Sunglasses (Denmark)
ONTO MAIZILIND UNTO INFINITY (OMUI) by Kas Ghobadi, Julian Palacios (USA, Italy)
OPERA - A FUTURE GAME by v. zur Mühlen/Köck/Bischoff/Miotk (Germany, Austria, Switzerland)
PLAYER NON PLAYER by Jonathan Coryn (France)
PRODUCER 2021 by Stuffed Wombat (Austria)
ROLLER DRAMA by Open Lab (Italy)
SCARLET HOLLOW by Black Tabby Games (Canada)
SCHIM by Extra Nice (Netherlands)
SEASON: A LETTER TO THE FUTURE by Scavengers Studio (Canada)
SIGNALIS by rose-engine (Germany)
SOUTH OF THE CIRCLE by State of Play (UK)
THE BUREAU OF MULTIVERSAL ARBITRATION by Aconite (USA)
THE FOREST QUARTET by Mads & Friends (Denmark, Germany, Brazil)
THE METAMOVIE PRESENTS: ALIEN RESCUE by The MetaMovie (USA)
VIEWFINDER by Sad Owl Studios (UK, Philippines, United States, Norway, Spain, Finland)
YUGO: THE NON GAME by Petrit Hoxha (Kosovo)
###
Nominees for the Gender Diversity Award presented by WINGS
FINDING HANNAH by Fein Games (Germany)
PSYCHOTIC BATHTUB – THE STORY OF AN ESCALATING MIND. AND DUCKS. by Natasha Sebben (Switzerland)
SONGS OF THE LOST by Apocablyss Studios (Canada)
THE HORTICULTURISTS by The Lovable Hat Cult (Denmark)
WAYWARD STRAND by ghost pattern (Australia)
###
Honorable Mentions
A COMMUNITY GARDEN OUTSIDE OF KYIV by Dean Moynihan (UK)
AFTERGLITCH by Vladimir Kudelka (Czech Republic)
BEYOND THE LENS by Ben Koder (Australia)
DEAD PETS UNLEASHED by Triple Topping (Denmark)
GERDA: A FLAME IN WINTER by PortaPlay / DON'T NOD (Denmark)
GRASPING by Duncan Corrigan & Vulcara (Australia)
OPEN WORLD SHUTTER by Jonny Hopkins (USA)
OXYMORE BY JEAN-MICHEL JARRE by VRROOM (France, Italy, Georgia, Kazakhstan)
POST VOID by Y/CJ/Y games (Sweden)
SENA, by Jisoo Lim (Korea, Republic of)
STRANGE AEONS by Karolis Dikcius (Lithuania)
STRAYED LIGHTS by Embers (France)
WORDS by Ahmet Zahit Dönmez (aka Ascetic) (Turkey)
###
Thanks again to all the submissions: https://2023.amaze-berlin.de/submissions/
---
Share this!