12th International A MAZE. Awards - All submissions are online now.
16/02/2023
---
New Record!
We are extremely happy that artists from 56 countries submitted 287 works! This marks a new high in the 12 year history of A MAZE. and signals that we are on the right track of highlighting works on the fringes of games, art and playful media. We can't wait to meet them!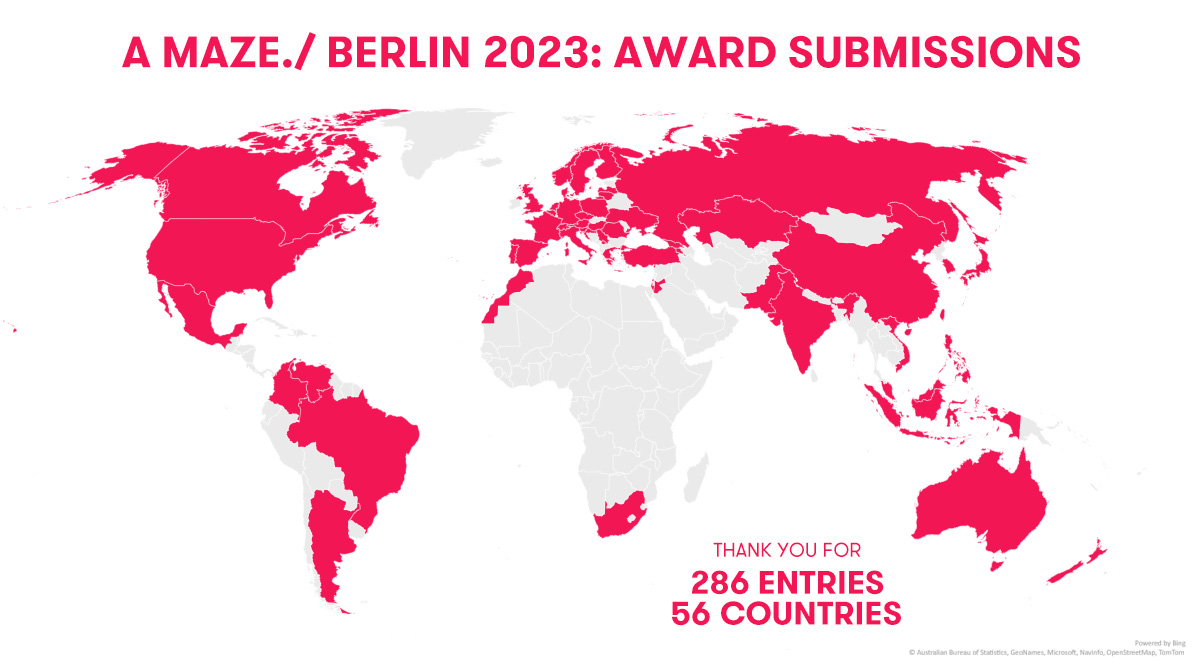 Check out all submissions.
"Having the festival back in Berlin for multiple days, but also staying hybrid lead to around 30 entries of interactive theater, performances as well as wild hardware controllers and installations - It's great to see them returning and I'm excited that we don't have boundaries in their showcase onsite and/or online in the A MAZE./ SPACE, which is 3 years in the making." - Mat, Award Coordinator
Check out all submissions.
The international selection committee is now reviewing all works and will announce the nominees of the 7 awards on March 13. After that, our final jury - 5 experts in various fields including the winner of last year's main award - will choose this year's winners at the Award Ceremony on May 12.
Check out all submissions.
"The rising number and diversity of the submissions is ground breaking. I'm totally stoked by the list of games and playful media works from around the world. In this regards special thanks to all who bought the additional supporter ticket or booster to enable the participation of game auteurs who wouldn't be able to join. Our community is amazing! Until the nomination stay amazed and follow our news as this festival will be back in full scale+. The programme we are stitching together for you is going to be truly amazing." - Thorsten S. Wiedemann, Artistic director "
Check out all submissions.
---
Share this!